New Release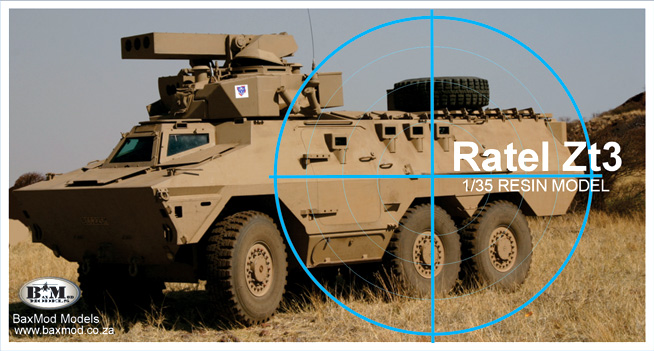 Description: Ratel ZT3
Scale: 1/35 scale
Price: R1050
Shop Online: Click Here

BaxMod is happy to announce the release of the ZT3 Ratel 1/35 scale.
The model has all the familiar interior detail of the current Ratel kits.
However, the ZT3 comes with lots more. 12 x missiles, the missile launcher racks, the interior retrofitted armoured plates and the platform fitted where you would normally find the troop seats.
The turret is detailed with all the ZT3 optical equipment, a new basket layout complete with the seats.

It is a lovely kit.

The new wheels - post 1994 - is also available on request. This however is limited, so please ensure to notify me if this is a requirement.
Please contact me via email (This email address is being protected from spambots. You need JavaScript enabled to view it.) for further information.